Teeth whitening strips are flexible gel-based film strips for teeth whitening. They are easy to use, effective, and whiten teeth quickly. How do teeth whitening strips work? What are the characteristics of the different types of teeth whitening strips? Take a look below!

Get a Teeth Whitening Strips Sample
How Do Teeth Whitening Strips Work?
Teeth whitening strips are made of a soft plastic material covered with a thin layer of whitening gel, usually containing hydrogen peroxide or carbamide peroxide. When you place the strips on your teeth, the gel makes contact with the tooth surfaces and penetrates them to begin the whitening process.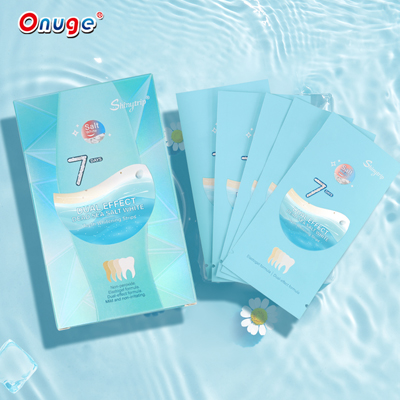 Dead Sea Salt Teeth Whitening Strips
Different Types of Teeth Whitening Strips
Yellow teeth are a worry for many people. Healthy teeth are not very white. A color that matches your skin tone is the healthiest. However, some people overly pursue white teeth and use whitening products indiscriminately, which affects their health. I believe some people have used teeth whitening strips, so what about this product?
1. Gel-type teeth whitening strips
It is a strip used to whiten teeth, and the gel is in a semi-wet state.
2. Dry teeth whitening strips
The upper gel layer is dry, but when it hydrates with saliva, it creates a strong adhesion and stays attached to the teeth for a long time (up to 6 hours or more) to ensure that the whitening agent in the strip has a better time to work on the teeth. Dry teeth whitening strips are easier to store and more comfortable to use. They can be used for professional nighttime teeth bleaching.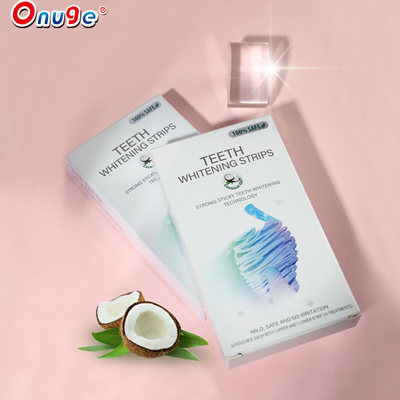 Dry Teeth Whitening Strips
3. Soluble Whitening Strips
It is a new product based on dry strips. The gel layer is also dry. The difference is that this product dissolves completely in the mouth and does not need to be removed from the teeth after use.
Over time, teeth may lose their pearly white shine due to stains from drinking dark beverages or beverages such as coffee, soda, or tea. These stains can be controlled by regular brushing. For deep cleaning, you can also have your teeth professionally cleaned with regular dental appointments. Tooth enamel can wear down from eating acidic foods or grinding, wear and tear, or natural aging.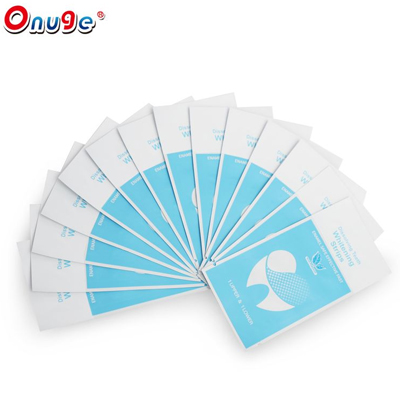 Dissolving Teeth Whitening Strips
How Often Should I Use the Teeth Whitening Strips?
Depending on the concentration and manufacturer's instructions, most strips should be used twice daily for approximately two weeks. The resulting whiteness can last up to six months. Do not use them more than twice a day, as more frequent use will not increase their effectiveness. Follow the manufacturer's instructions, regardless of brand.
How to Use Teeth Whitening Strips?
1. Avoid using the teeth whitening strips after brushing your teeth.
2. Please do not go beyond the tip of the teeth when using the teeth whitening strips and they should be parallel to the tip of the teeth.
3. If the teeth whitening strips are uneven when you use them, simply press the ends of the teeth whitening strips gently with your fingers and gently pull them outward.
4. Use the teeth whitening strips on the upper and lower teeth twice a day for no less than 30 minutes each time, with the optimal time being 60 minutes.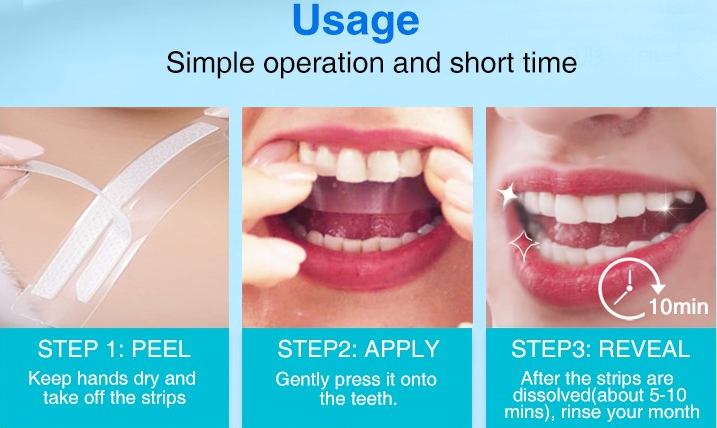 5. After use, remove any gel left on the teeth by rinsing and wiping.
6. Do not use after mouth ulcers, broken gums, or oral surgery.
7. For people with sensitive teeth, please reduce the dosage or use it under the guidance of a doctor.
8. Avoid contact with your eyes when using this product. In case of accidental contact with eyes, please rinse immediately with water.
9. Not recommended for use by pregnant women and children under 12 years of age.
For more information and consultation, contact us here!