Is There Teeth Whitening A Good Business?
The answer is Yes! Launching a teeth whitening startup might sound daunting and even expensive. But really, a startup teeth whitening company is easy and affordable.
Teeth whitening business is a high demand industry, the personal care industry makes on average $40 billion a year in sale. It is estimated that teeth whitening business is an industry currently raking in over $15 billion in revenue in the United States alone. It is approximately worth $1.4 billion in Australia, and over £12 billion in the UK. Evidently, there has hardly been a better time to take advantage of this fast-growing opportunity.


Is A Teeth Whitening Business Profitable?
A radiant smile is a vital social tool. The rise in telecommunications and social media popularity, not to mention enhanced camera capability on phones has lots of people noticing imperfections they may have overlooked before.
this is perhaps the reason why the cosmetic teeth whitening industry has, over the course of the last few years, gained massive traction. Attracting clientele ranging from celebrities, to professionals, to high- end models, and members of the public, in general. With new technology making cosmetic services more prevalent and affordable to the general population.


Why Teeth Whitening Business Promises Higher ROI?
1. Low Threshold Startup Business
Today, you do not need huge investment and manufacturing facilities to become a successful seller. If you have a knack for selling teeth whitening products, you can work with a powerful supplier from China such as ONUGE and start your business with small cost first. You can start with a minimal inventory of fast-moving products such as teeth whitening pens, teeth whitening strips, and LED teeth whitening blue light kits.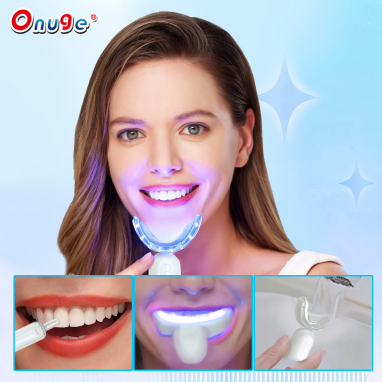 2. Customers Are More Pursuing Cost Performance
Everyone loves a bright, white smile! Compared to going to the dentist for professional teeth whitening services. The large availability of OTC products in the affordable range of $15-$50.
3. Highly Custom Product Line and Private Label Your Own Brand
Customization is the key differentiating factor, cooperate with ONUGE, you get to enjoy customized product offerings to suit your target market. In the past, it was exhausting to find a manufacturer who offered teeth whitening products. But modern manufacturers provide a plethora of product options for retail sellers.You can manage it effortlessly with an email or message to us.
4. Value-Added Services from ONUGE Manufacturers
Along with the core teeth whitening products, many manufacturers now offer additional services to help you start your business comfortably. Value-added services from ONUGE manufacturer, we are the Fortune 500 brand's OEM and ODM direct supply factory and offer help with legal compliance issues.
Now that you know teeth whitening is a lucrative business, what is holding you back? It's time to make the move!