Teeth whitening strips are thin sheets of plastic that are coated in teeth whitening agents like hydrogen peroxide or carbamide peroxide, as well as an adhesive to make them stick to your teeth. Usually, they come in kits with enough strips to use on both the top and bottom teeth for two weeks.

While the majority of whitening strips are safe, using them too often can damage the enamel on your teeth as well as the dentin underneath.
The ingredients used can also cause gum irritation and teeth sensitivity, which should subside as soon as you stop using the strips.
make sure you're choosing strips that meet EU regulations and won't cause more problems (like tooth damage and gum irritation) than they solve.
Tips for using whitening strips safely
Whitening strips are a popular option for teeth whitening, but it's important to use them safely and follow the instructions provided by the manufacturer. Here are some general tips for using whitening strips safely:
Follow the instructions provided by the manufacturer. Make sure to use the strips according to the recommended duration and frequency.

Use a lower concentration of hydrogen peroxide. Higher concentrations of hydrogen peroxide can be more irritating to the gums and may cause sensitivity.

Avoid using whitening strips if you have sensitive teeth or gum problems. If you have sensitive teeth or gum problems, it's best to consult with a dental professional before using whitening strips.

Protect your gums. To protect your gums while using whitening strips, you can apply a thin layer of petroleum jelly to your gum line. This will help to prevent the strips from coming into contact with your gums.

Avoid consuming acidic foods and beverages while using whitening strips. Acidic foods and beverages can soften the enamel on your teeth, making them more susceptible to sensitivity and irritation.

Don't use whitening strips too often. Overuse of whitening strips can lead to sensitivity and irritation. It's generally recommended to use whitening strips no more than once or twice a month.

It's always a good idea to consult with a dental professional before using any teeth whitening products, to ensure that they are safe and appropriate for your needs.
Top 10 Safest Whitening Strips - Onuge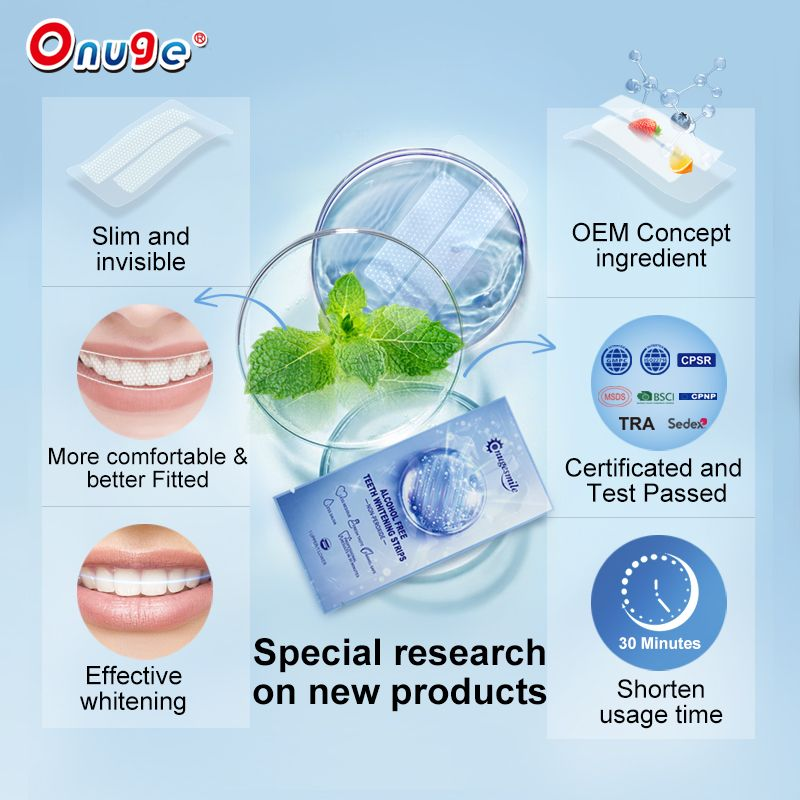 Alcohol-free teeth whitening strips are popular because they kill most of the bacteria in your mouth, leaving your mouth feeling fresh. However, your mouth needs both good and bad bacteria to balance your breath, so an imbalance of bacteria in your mouth can lead to bad breath.
If you have low saliva flow due to a medical condition or diabetes, you should avoid alcohol-based teeth whitening strips to prevent the condition from worsening. If you have a history of alcohol abuse, you should switch to alcohol-free teeth whitening strips.
Alcohol-free teeth whitening strips are considered safer for your teeth because you don't have to worry about the enamel being weakened by the alcohol in the strips or your gums burning while your teeth are whitening.
PAP Teeth Whiteing Residue Free Strips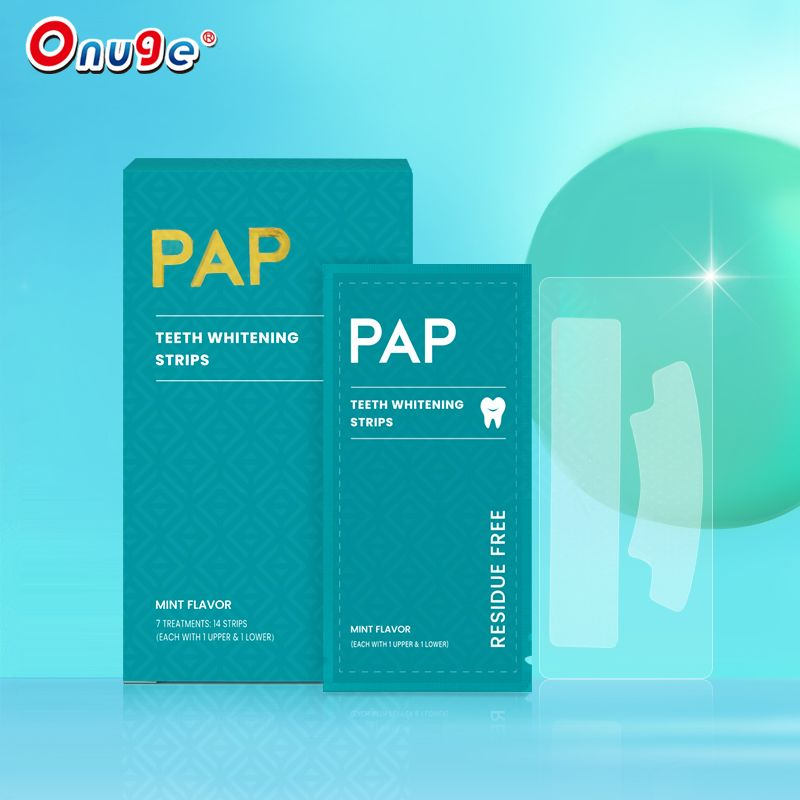 The ingredient imported from Italy - PAP ingredient, is safer for sensitive teeth than hydrogen peroxide teeth strips. The whitening product supports customization of die-cutting, taste, ingredients, packaging, etc. At the same time, there is no gel residue on the tooth surface after use, and it is easy to carry.
Activated Charcoal Teeth Whitening Strips
Activated charcoal formula. It very conveniently helps remove stains caused by coffee, wine, tea, cigarettes and more. Our coconut and charcoal teeth whitening strips are enamel safe and peroxide free; so you can whiten your teeth safely and effectively.
Non Peroxide Teeth Whitening Strips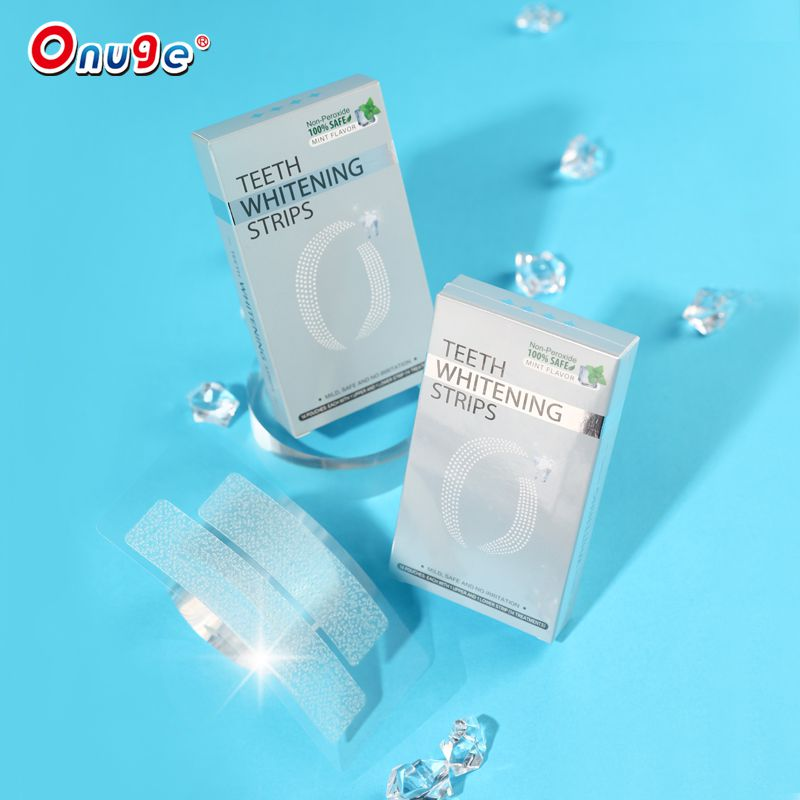 The non-peroxide teeth whitening strip is safe, uses non-peroxide ingredients that will not harm you gum health and no sensitivity. Whitens your teeth, the non-peroxide teeth whitening gel strips not only remove surface-level stains, but also remove set-in stains under the enamel surface.
Dead Sea Salt Teeth Whitening Strips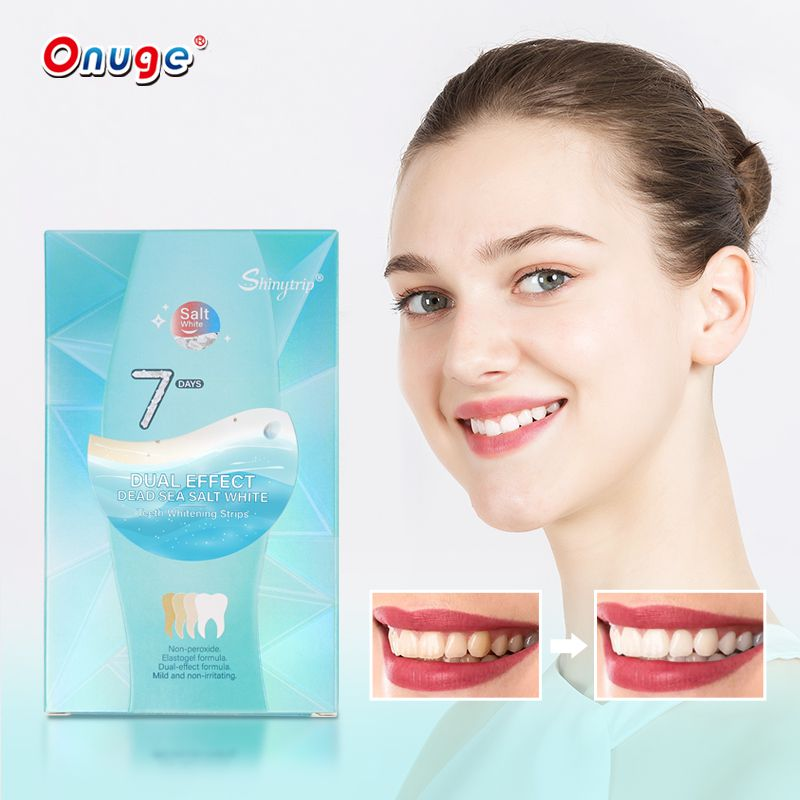 Dead Sea salt teeth whitening strips. safe and efficient. Teeth Whitening Strips Non-Sensitive White Strips , Teeth Whitening Kit 28 Strips Remove Smoking Coffee Soda Stain
Coconut Oil Teeth Whitening Gel Strips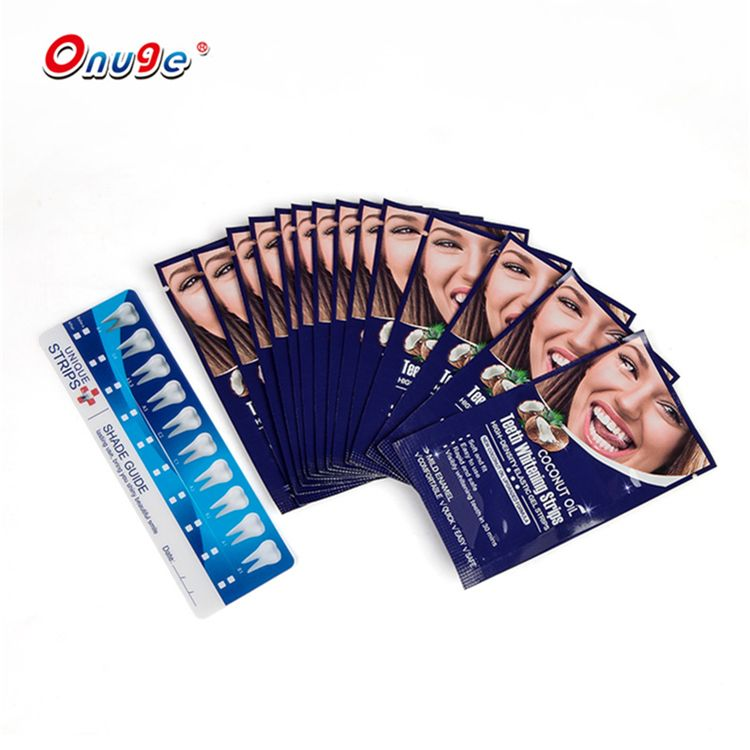 Natural coconut oil can inhibit oral bacteria and refresh breath, high-density gel tooth strips are made of patented polymer production process, compared with ordinary gel tooth strips, matrix secondary pressure coating technology. Coconut oil has pure natural antibacterial properties. Studies have found that coconut oil can reduce the accumulation of plaque on teeth and help treat gum disease. It is relatively safe and effective for sensitive teeth.