Benefits of the teeth whitening strips
❤OEM/ODM Manufacture
fortune 500 brand's oem and odm direct supply factory, customized flavors and ingredients
❤Onuge Capacity
10+ fully automatic production lines, 2,000,000+ daily output

❤Quality Control
rigorous quality control, comprehensive tracking services provided at every step
❤World Bestseller
best-selling in 60+ countries and 500+ regions around the world
Type
Third generation teeth whitening strips
Item Name
PAP teeth whitening Residue Free strips
Brand
Onuge or Private your label
Ingredient
PAP
Content
7x Pouches Teeth Whitening Strips(14pcs Upper Strips, 14pcs Lower Strips)
1x User manual
1x Shade guide
Usage of Whitening Strips
Use once day, 14-day as a treatment; Use twice a day, 7 days as a treatment.
Active Result on
Remove Stains of smoking, coffee, tea, drink. Whitening Teeth By Daily Use
Weight
100g
Shipping Method
DHL, UPS, FedEx, Air Freight, Sea Freight
Service
OEM is Available
Our Advantages
1. Factory certified by GMPC, ISO 22716, BSCI & SMETA 4P
2. Products certified by FDA, CE, CPSR & MSDS
3. Professional R&D team, Unique Residue-Free Technology
4. Fortune 500 brand's OEM factory
You can contact us to get all the details above.
PAP White Teeth Whitening Strips
When applied to the teeth, each strip adheres firmly to the tooth surface and releases the active ingredients of the PAP+ formula into the tooth structure to provide rapid whitening, desensitisation and remineralisation benefits. These strips are one of the safest and most effective methods of teeth whitening.
Teeth Whitening Strips
Support customization
Cutting die
Ingredient
packaging
flavor
PAP Italian imported ingredient
Peel off after use
No gel residue on tooth surface after use
Residue Free
Effectively Whitening Teeth
Significant effect on exogenous yellow teeth
Using periodogram
*before use
*Put on the strips
*use 1 time
*Insist on using for 1 month
Shade Guide
Instructions
STEP1: peel
Peel whitening strips of back liner with dry hands
STEP2: apply
Align the teeth strip to your gum line,press the sticky gel side firmly onto your teeth
STEP3: remove
Remove the strips after 30~60 minutes, rinse-free
Product display
Small and exquisite, easy to carry
Support customization
custom Cutting die
custom Packaging
custom Ingredient
custom taste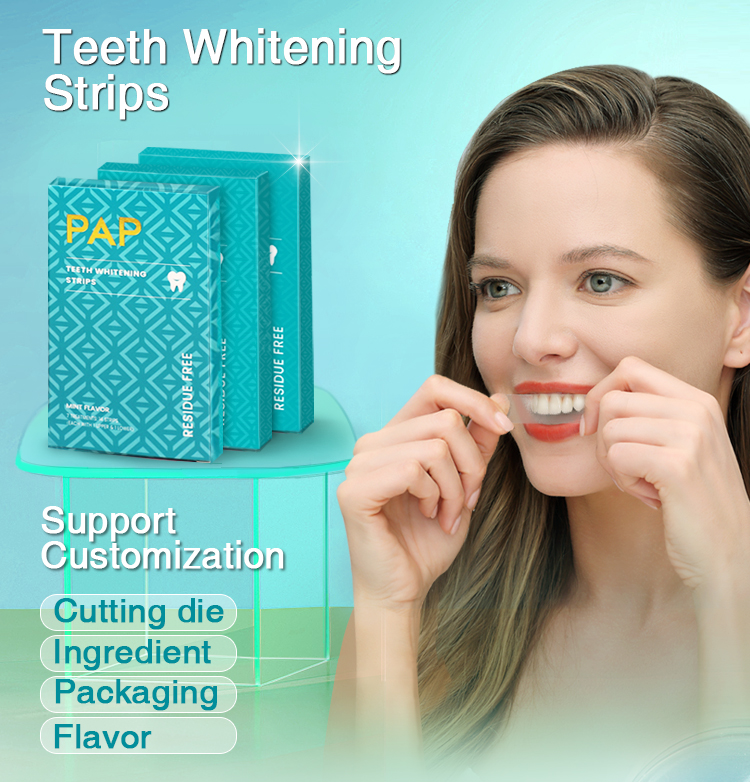 Will they make my teeth sensitive?
Traditional whitening strips use a peroxide-based formula that can cause tooth sensitivity. White Teeth Kits PAPStrips, on the other hand, use a non-sensitising PAP formula.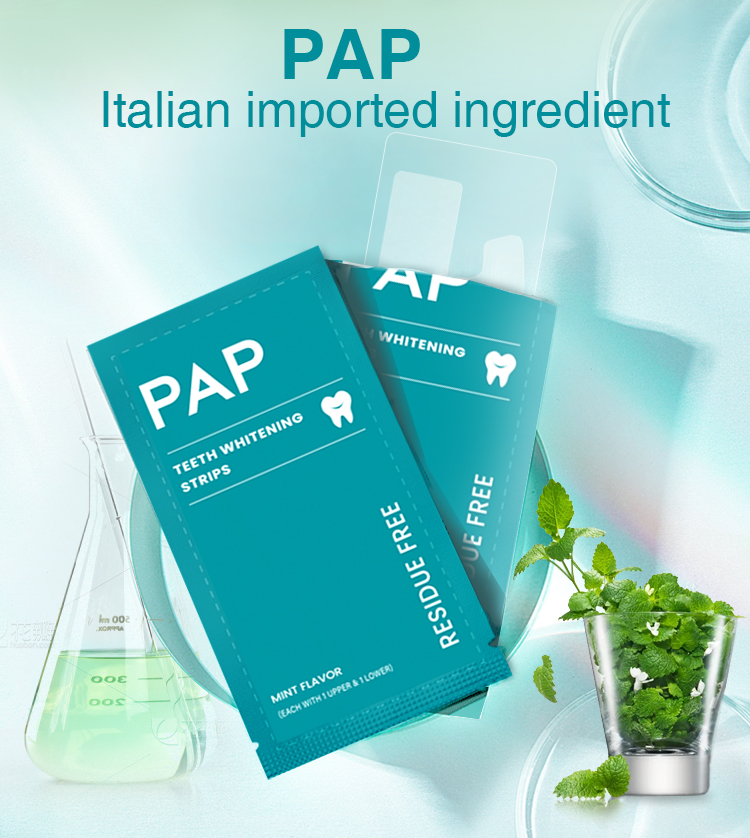 How does it work?
When the stickers are applied to your teeth, they grip the enamel surface firmly and release the active ingredients of the PAP formula into the tooth structure to provide rapid whitening, desensitisation and remineralisation benefits.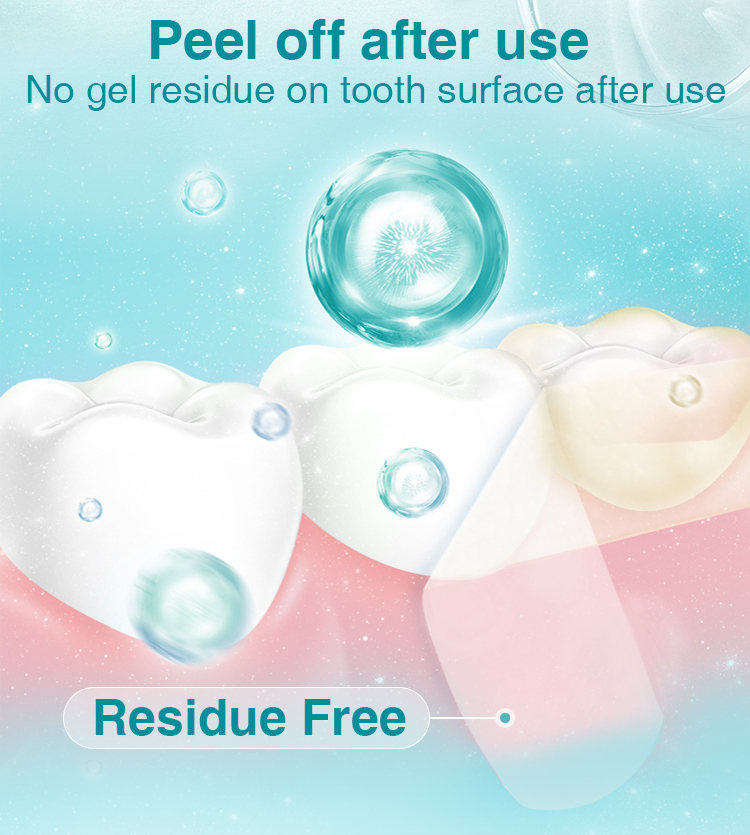 How does it work?
Clean and dry your teeth
Tear open a sachet
Place the lower strip on the lower row of teeth first
Place the top strip on the top row of teeth
Keep the strips on for 30 minutes. Avoid food or drink.
Remove strips and discard
Rinse mouth
Smile