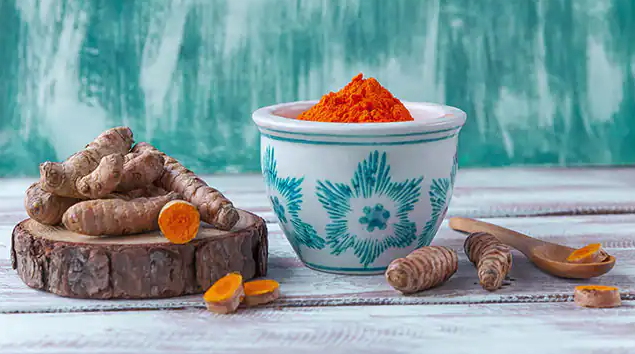 Long before sonic toothbrushes, water flossers, and fluoride toothpaste, many early civilizations turned to medicinal herbs and spices to care for their teeth and treat various ailments. Turmeric was one spice used in early Asian cultures for medicinal purposes, but is it still relevant in the modern world of oral care? Find out more about using turmeric for teeth and the role it can play in your oral health.

What Is Turmeric?
With origins in Southeast Asia and India, Turmeric belongs to the ginger family and derives from an herb called the Curcuma Longa. Turmeric is typically orange with a root-like structure, but you can find it in various forms — like dry yellow powder, tablets, or a liquid extract.
TIP: The terms turmeric, curcuma, and curcumin are often used interchangeably, so try to group them during research.
What Are the Benefits of Turmeric for Oral Health?
While turmeric has been used in Asian medicine throughout history, recent research suggests that it may also promote good oral health, such as gingivitis management. Find out how using turmeric for infected gums might be an effective remedy for your periodontal woes.
Anti-Inflammatory Effects
Many oral care studies have evaluated the effects of turmeric on gingivitis patients and found it helpful in reducing inflammation. One study published in the Journal of Clinical & Diagnostic Research concluded that curcuma gel for gums is efficient in treating gingival inflammation. Another pilot study conducted by the Department of Periodontology and Implantology of M.A Rangoowala Dental College found curcumin is comparable to chlorhexidine as an anti-microbial and anti-inflammatory mouthwash for periodontal patients. The science on turmeric's anti-inflammatory effects is still emerging but looks promising. If you'd like to try a more natural remedy for gingivitis, talk to your dentist about using a product containing turmeric.
Plaque Control
This multi-faceted spice isn't just for gums. Studies suggest that you can potentially use turmeric for teeth plaque and buildup. A study by the Department of Periodontology at the Bharati Vidyapeeth Deemed University concluded that turmeric mouthwash effectively reduces plaque when used in conjunction with proper brushing and flossing techniques. The science for this, while emerging, also looks promising. For sure-fire protection against plaque, you'll need to stick with fluoride toothpaste, but feel free to try a formula with turmeric for added anti-plaque benefits.
Other Potential
Throughout history, research on curcumin has demonstrated a wide spectrum of potential properties and effects to explore in the oral health space. Additional research is needed to evaluate the potential antioxidant, antiviral, antifungal, antibacterial, and wound healing properties of oral care products.
Can Turmeric Whiten Your Teeth?
We've covered the health benefits of turmeric, but does it have cosmetic benefits as well? Unfortunately, as the American Dental Association (ADA) mentions, there's no scientific evidence that turmeric can whiten your teeth. Many turmeric toothpastes include ingredients like baking soda, hydrated silica, or calcium carbonate, which are known as natural whitening agents and might be what's actually contributing to a brighter smile.
If it doesn't whiten, then can turmeric stain your teeth? Probably not. Though turmeric has a pretty intense yellow color, you would need to eat or drink it regularly for it to stain your teeth. Plus, brushing your teeth twice a day and cleaning between teeth daily can help prevent those surface stains. If you want whiter teeth, try some clinically proven teeth whitening methods.
Should You Use Turmeric on Your Teeth?
Even though turmeric has its roots in history, it has countless uses beyond seasoning in the modern world. From treating gingivitis to helping reduce plaque, emerging research shows that turmeric could play a part in your oral health. Still, as promising as the research on turmeric may be, remember that DIY remedies should never replace proper brushing and flossing practices. You should always speak with your dental professional before changing your oral care routine. Your dental professional can help you explore both new and natural ways to care for your smile.