Having yellow teeth is not uncommon in dentistry. Many patients end up with the wring color of teeth. Yellowing of the teeth happens when the enamel takes up a different color than its original white shade. It distracts people from the brightness of your smile.
---
Many reasons can be used to explain teeth yellowing, including the following:
Plaque build-up – plaque is the number one thing your dentist will look for when you complain of yellow teeth. It is a layer of food residue, acids, saliva and bacteria that forms on the surfaces of teeth. Plaque build-up results from poor oral hygiene.
especially if the foods are taken often. Such foods range from tomatoes and lemons to wines and coffees.
Hard water – the intake of hard water forms a resistant residue on the surfaces of teeth. The color may start as yellow, but in time, it turns into a dark brownish color.
---
At-Home Teeth Whitening Treatments Kit
Teeth discoloration is not new in dentistry. Your dentist has a variety of oral solutions that could work for your teeth. However, a trip to the dentist's office for treatment can be time-consuming, expensive, and inconvenient. Therefore, at-home teeth whitening treatments are gradually gaining popularity in the market.
1. Teeth whitening LED kit---just 15 minutes to white your teeth, including 3 whitening gel, a silicone tray, a led light, a shade guide and a instruction manual.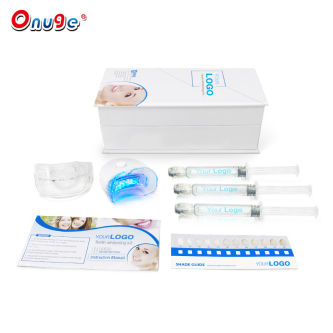 2.PAP Teeth whitening residue free strips---easy to carry, slim and invisible. There wil be no gel residue on the teeth surface after removing them, so no need to rinse mouth with water anymore. Getting brighe and white teeth becomes more easier with that atrips can be removed at any time and anywhere.